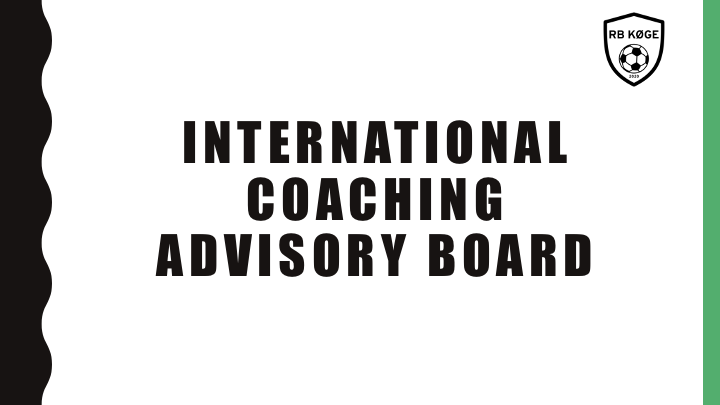 International football experts, with the knowhow and experience from the highest club level from around the world, will inspire and define the RB Køge way.
At RB Køge we want to create the best footballing environment in Denmark, for our youth players, coaches and club staff. 
An important part of achieving this is the creation of our "RB Køge – Coaching Advisory Board", which comprises of football coaching experts from around the world. All members of our coaching advisory board have their own individual story, experience, background and view on the game and the future development of young players.
At RB Køge, we want to build an RB Køge way which is inspired by people that understand what is required to achieve that next level and always have this in mind when discussing how we develop our future players.
The Coaching Advisory Board will not only play a big role in the creation of our RB Køge way, they will also ensure the ongoing development of the RB Køge way, our coaches, club staff, our activities and our club in general.
The Coaching Advisory Board will have 6 meetings a year, where the idea is to share thoughts, best practices and have discussions around football topics, such as:
What is the future of football?
What are the future demands of a top player?
How do we create the best environment for both personal, team and club development?
At RB Køge, we want to create and develop the best football club possible. We believe in having the best club, the best concept, but most importantly we will target having the best people and the best coaches. The implementation of the Coaching Advisory Board and the experience and knowledge it provides will inspire our coaches on their coaching journey. In order to provide players with the best opportunity of reaching the highest level possible. Our club aim is to educate and develop our players and provide an environment for player growth and development through providing players with the perfect football and social environment to learn.
For any questions about the "RB Køge – Coaching Advisory Board", please feel free to contact us.
RB Køge
Kenneth Santa
Chairman
+45 6130 2002
ksa@rbkoge.com
Our 2020 Coaching Advisory Board
Shakthar Donetsk, Academy Director
Burnley F.C, Head of Coaching
Benfica, Lead Youth Phase Coach
Vitesse, Head of Foundation Phase
STVV, Youth Technical Director
Orlando Pirates, 1st Team GK Coach
Fulham F.C, Scout Coordinator
Club Atletico Penarol, Technical Director
Svensk Elitfotboll, Leder
APOEL, Youth Technical Director
RB Køge, Head of Coaching